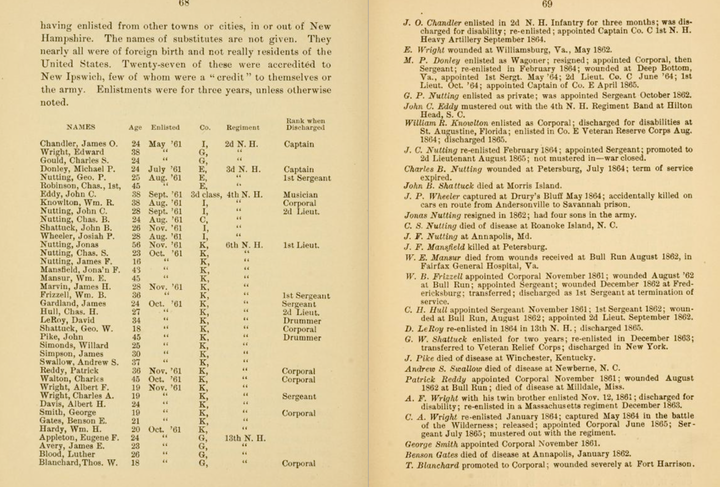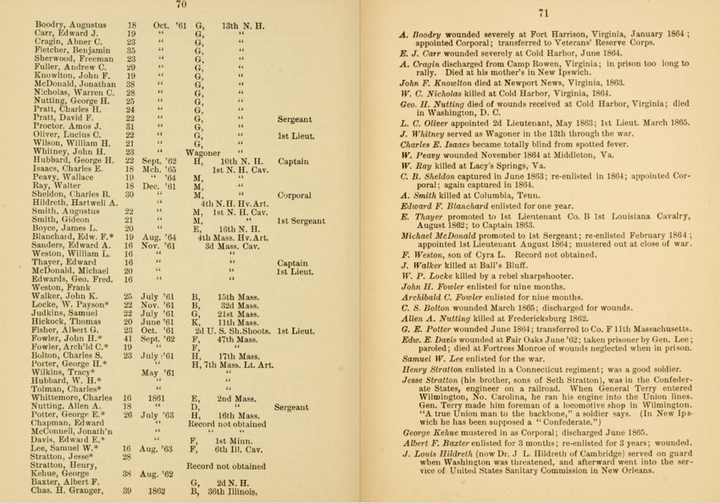 Source: Lydia A. Obear, New Ipswich in the War of the Rebellion: What its Men and Women Did (1898), pp. 68-71.
Aug 4, 2011
---
 OFFICERS
---
President, John Rosenfelder
Vice President, Daniel Ziarnik-Case
Treasurer, TBD
Secretary, Margaret Lee
---
---
---
UPCOMING PROGRAM
---
2022 Virtual Genealogy Program Series
Sessions begin at 7:00 p.m. on March 30, April 27, May 11, and June 1.
Sponsored by the Stearns Burton Lecture Fund
For more information and to signup click here.
2022 Al Jenk's Talk History of Windblown Cross Country Skiing and Snowshoeing.
New Ipswich Library & via Zoom
Thursday, May 5th at 6:30pm.
For more information and to signup click here.
---
New Blog
---
 A Historic Look at New Ipswich, NH Blog
---
IMPORTANT EVENTS
---
Historic District Marker Unveiled
A new bronze marker for the Central Village Historic District was unveiled on Saturday, December 9, 2017 by members of the Historical Society.  The marker was obtained from a grant from Historic New England, a donation from the  New Ipswich Historical Society, as well as, an anonymous donor.  We would like to thank those who funded this project, as well as, the New Ipswich Selectman for approving the location of the marker on the town owned property at the corner of Turnpike Road and Main Street.  Also, a special thank you to the New Ipswich DPW for installing the marker.
---
Annual Meeting
---
New Ipswich Historical Society Annual Meeting
The NIHS Annual Meeting was held at 6:30 p.m. on Thursday, September 16, 2021 at the Barrett House (79 Main Street, New Ipswich). 
Click here for more information.
---
2022 NIHS Hours
---
2022 hours
Second and Fourth Saturdays
Special Memorial Day Opening Date May 22, 2022
1pm-3pm
Our other opening days for 2022 starting June 11th coincide with the Barrett House Opening so that you can visit both if you so choose.
---
Whatever happened to?
Ellen Barr, a girl from New Ipswich!
---